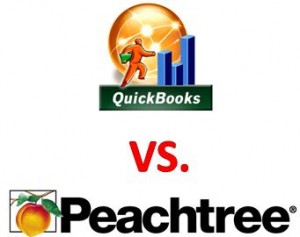 Within the world of business education Accounting courses are a delicate topic to discuss. Some school districts offer a number of sequential Accounting courses, while other schools offer no Accounting courses whatsoever. Many people always note how it is important to get the basics down, but in Accounting courses sometimes this is overlooked. Accounting courses used to feature detailing the basics by going over everything by hand, such as ledgers. Now in some schools there has been a paradigm shift towards using software for Accounting purposes, essentially teaching how to use a particular program, rather than actually teaching Accounting. Within school districts I've seen Intuit QuickBooks as the primary program used, but most accountants have told me Sage Peachtree now known as Sage 50 is what is actually used in the field of accounting (ie what the pros use).
The dilemma is, in a world where PARCC is being implemented, do we continue to ride with the status quo or do all aspects of academia move towards preparing for college and career? The status quo would be to continue using Intuit QuickBooks, while moving towards preparing individuals for a career in Accounting would be to switch over to Sage Peachtree now known as Sage 50.
The intention of this blog post is not to discredit the usage of either of these programs in an Accounting classroom, but rather to explore their differences and similarities so that our readers may make informed decisions on which product will work best in your Accounting classroom. We will mention cost of the products here, but that often depends on number of licenses that are purchased and any discount the respective companies will provide.

Intuit QuickBooks
The biggest positive about Intuit QuickBooks is that it offers a free 30 trial. This allows Accounting educators the opportunity to test out various functionality including in the software to see if it will fit within their classroom. This is extremely helpful if you need to create a proposal to your administrative team as to why using Intuit QuickBooks would be helpful within your classroom environment, as you can reference specific examples.
Another strong feature we like about Intuit QuickBooks is there in depth help opportunities. Intuit QuickBooks provides individuals the opportunity to "train" in the usage of their product.
Live Training:
Live Training is available both in person and via online webinars. The prices vary from Free to $499 depending on what training you need and where you receive your training (online webinars seem to be cheaper than in person training). Each of the courses offers different experiences dependent on your needs. This could be a great opportunity for further knowledge and preparation if an educator pursues it.
On Demand Training:
We live in a world where we want the opportunity available to us to have everything at our finger tips. This is understood via the offering of On Demand Training. This offering is similar to the live training, however, you purchase the ability to stream a lesson to your computer via the internet and navigate it at your pace. Meaning you could get through five minutes today and come back tomorrow and finish the lesson, or break it up into a number of days until you've mastered that lesson. The individual lessons are pricey at $400 each, but bundle packages allow for you to purchase multiple lessons at a discount. This is likely not the route to go for an educator as the prices are too steep. A school district is unlikely to foot the bill for such costs given that this may be a tertiary need of the school.
CD/DVD Training:
The CD/DVD Training option is essentially the same thing as the On Demand Training. The difference of course being the On Demand Training is done via streaming on the internet and the CD/DVD Training is done through purchased CDs or DVDs, as the name would imply. The price points are exactly the same, but with the CD/DVD Training you would have a physical copy of the lessons you'd like, rather than a digital copy. A school district might be willing to foot the bill for the CD/DVD Training as one physical copy of the lessons can be used throughout the district.
Online Demos:
The Online Demos offered may not be the most in depth features, but they can provide a good starting point on each area you're interested in learning more about. There about 60 seconds each, meaning you can view them all at once. They are also free! But they do not provide the quantity that the other training offerings would provide.
Community:
Like any good product an online community is featured in order to provide individuals the opportunity to seek out answers to their questions without necessarily having to reach out to Intuit QuickBooks via their customer service. Online communities also encourage collaboration and sharing which is helpful to individuals starting out with using the product.
Price:
The pricing plans are noted as $12.95, $26.95, and $39.95 per month. As mentioned above the price may very for a school district given number of licenses purchased for the product.
Additional Info:
For additional info on Intuit QuickBooks please check out their FAQ. Also note that Intuit QuickBooks syncs with many of today's apps.
Pros:
1. Intuit QuickBooks is considered easy to operate.
2. The software requires little to no actual knowledge in the field of Accounting.
3. Features items you'd be reviewing in an Accounting course such as Accounts Payable, Accounts Receivable and General Ledgers.
4. With monthly licenses it is easier to decide to no longer use the product.
5. A lot of available tutorials, webinars and information available.
Cons:
1. It is not the industry standard according to accountants.
2. It may not be useful once a student reaches Accounting II or Accounting III.
Intuit QuickBooks At a Glance:


Sage Peachtree now known as Sage 50
Sage Peachtree/Sage 50 also offers a free trial period, but they do not indicate how long it is until you signup for it. They will also schedule a one on one demo for you on how to use the software. No cost is noted with the demo.
Support:
Support offered is not as involved as Intuit QuickBooks, but they do offer the usual company customer service as well as an online help forum/community.
Price:
Plans vary from $299 to $449 to $1,499 a year. The $299 and $449 plan features usage for one person, while the $1,499 plan features usage for three people. Again prices may vary for a school district buying multiple licenses.
Pros:
1. Defined as industry standard by accountants.
2. Features items you'd be reviewing in an Accounting course such as Accounts Payable, Accounts Receivable and General Ledgers. Also includes Job Costing and Forecasting.
3. Aligns with PARCC goals.
Cons:
1. Requires Accounting knowledge.
2. Limited help resources available.
3. Yearly licenses lock you into longer usage and harder to decide to no longer use product.
4. May be more effectively used in an Accounting II or Accounting III course.
5. Some define it as harder to operate than Intuit QuickBooks.
Sage 50 Tutorials:
https://www.youtube.com/user/Sage50US
Overall Thoughts:
You need to consider the needs of your classroom before deciding on which program to use within an Accounting course. You also need to consider the budget your school district has available for its educational technology products. Intuit QuickBooks biggest assets are its ease of use and availability of resources to help both educators and students utilize it. Sage Peachtree now known as Sage 50's biggest asset is the fact that it is considered the industry standard among accounts. For example, a school district only offering one accounting program may be more inclined to utilize Intuit QuickBooks, while a Career and Technical Education program training individuals for real world accounting might utilize Sage Peachtree now known as Sage 50. Ultimately the decision should be made based on a best fit though.